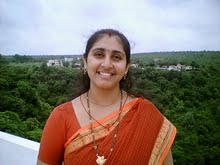 PREETI SHUKLA
Languages Known : English, Hindi, Gujarati,
Marathi, Sanskrit
E-mail : shukla.preetidev@gmail.com
Educational Qualification:
B. Com. : University Of Mumbai
M.A. (Sanskrit) :University Of Mumbai
PG Diploma in Comparative Mythology : University Of Mumbai
Participated in Research activities :-
Workshop on Samas Tagging for Development of Sanskrit Computational Tools-kit & Sanskrit-Hindi Machine Translation System 2009,Bangalore

International Symposium on Sanskrit Computational Linguistics 2009, Hyderabad

International Conference on Natural Language Processing (ICON) 2008, Pune

National Seminar on Emerging Trends in Contemporary Sanskrit Litt. 2007, Mumbai

Prachya Vidya Adhiveshan, 2007, Thane

National Workshop on How to Prepare Good Research & Funding Proposals, 2007, Mumbai

Conference on Sankaracharya : A Critical Study,Pune
Teaching Experience :-
Anandi Nursery (Ghatkopar,Mumbai) in the year 2006-07.

Rishikul Gurukul Vidyalaya (Ghatkopar, Mumbai) in Secondary Section for 2006-2008.
Extra Curricular Activities :-
Been C.R in K.J.Somaiya College of Arts & Commerce for the year 1997-98.

Received Certificate of Merit for topping in Book-keeping (94%) & Secretarial Practice (81%) in 1998.

Received Certificate of Honour for Best Guide (Ghatkopar) in 1994-95.

Received various prizes in folk dances (professional).

Undertaken two years Classical Singing training.

Undertaken two years Bharatnatyam from Rajrajeshwari Kala Natya Academy, Mumbai

Represented India in the Expo-98 Cultural programme held in Lisbon, Portugal. Performed in Hungary & Germany.

Undertaken National Hiking Programme in Manali.

Took two years Teachers Training Programme for Spoken-Sanskrit.

Conducted various workshops in India for the propagation of Sanskrit.